AUSTRALIA ONLY.

Glass Cremation Memorial Big Hole Bracelet Bead - a beautiful way to keep a little of your loved one close.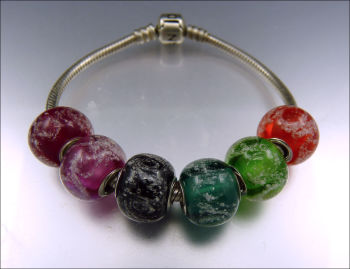 The ashes are encased in hot molten glass and sealed inside a bead to be worn strung on a chain as a necklace or on a Pandora or similar bracelet, but do not screw over the central dividers, so they will be free moving on the bracelet. The bead will have a sterling silver core. They measure approx. 14mm x 12mm.

After purchasing a bead, you will need to send your loved one's ashes, and I promise to take good care of them. A teaspoon is about all I need, and I will return what is not used. This is a very personal item so please contact me with your requirements and I will work with you with regard to the colour choice (I've found that darker transparents work well and show the ashes nicely) and make a bead that you can treasure.

Inside the bead, the ashes cause a chemical reaction and create small bubbles - this cannot be controlled, and means that each bead will look different, sometimes with lots of bubbles, sometimes with very few. The pictures give an idea of the style of bead and colours, but your bead will be unique and slightly different.
Once I receive the ashes, it will take me approximately 2 - 3 weeks to make your bead - I will provide photos of the finished bead for your approval prior to posting.
Price: AU$55 per bead plus $15 postage (regardless of how many beads are ordered).
Please send me a message to order.
Postage will be by Express Post with signature required on delivery.